Case studies
Putting its money where its mouth is: Kumba partners with local suppliers to create thriving, sustainable communities
There is a deep acknowledgement at Kumba Iron Ore that small businesses in South Africa are critical drivers of the economy and job creation. Given its economic footprint Kumba is well positioned to provide an enabling and facilitative environment to support small business and to provide the kind of mentorship required for successful entrepreneurship.
Vusi Maseko, General Manager for Supply Chain at Kumba Iron Ore explains how they have exceeded the R500 million local procurement target Kumba set in 2017. "Our aim was to create a more inclusive and diverse supply chain. The result has been very satisfying – we now have established business relationships with 160 local businesses, adding resilience to host communities and their local economies.
"We have also increased the number of black, women, and youth-owned businesses by giving them the opportunity to supply products and services across the mining value chain to the value of R2 billion this financial year. "
Kumba's collaborative efforts with business forums within the host communities has resulted in the establishment of a chamber of commerce, the Gamagara Corridor Chamber of Commerce and Industry. This is the only example of community business forums engaging strategically with mining companies. The chamber's members are drawn from Kgatelopele (Danielskuil and Lime Acres), Tsantsabane (Postmasburg), Gamagara (Olifantshoek, Kathu and Deben), Joe Morolong, Ga-Segonyane (Kuruman) and Siyancuma (Griekwastad).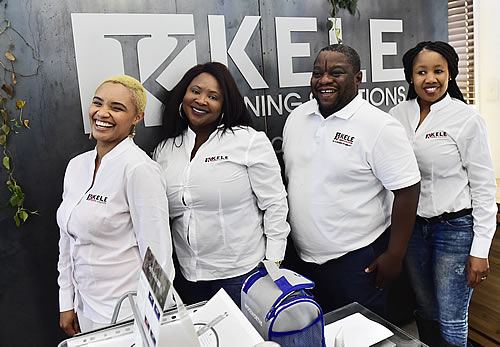 As a responsible miner, Kumba has been helping entrepreneurs build small businesses for years. One of the local businesses supported by Kumba is KELE Mining Solutions, a 100% black-owned and operated company. Since working with Kumba it has increased its revenue by over 3000%. "It was hard in the beginning until we started working with Kumba through its Supplier Development Programme," said Jomo Khomo whose business is situated in the John Taolo Gaetsewe municipality in the Northern Cape.
He and his wife, Kefilwe, learnt how to run operations, how to market, and many other business disciplines. Jomo and Kefilwe's mining solutions company now employs more than 150 people. "We believe we've changed the lives of many people here," says Khomo.
Similarly, Postmasburg entrepreneur, Bucks Sibiya, won a contract to help build the town's new medical complex. His company, Nomulwethu Construction and Projects is now a key Anglo American local supplier, and in 2017 was awarded its first project at the Kolomela Mine. Today the business supplies fulltime employment to 17 local people and contract work to many more. "Apart from the consistent pipeline of work, which has allowed my company to grow, Anglo has provided intensive business skills, training and mentorship," says Sibiya.
These successes have not always been easy.  The learning curves have frequently been steep, and there have been many challenges along the way, which Kumba has been responsive to:
Cross-functional teams have worked to put in place policies, processes and procedures to support supplier verification, due diligence on BEE deals, and revising clauses in contracts relating to BEE ownership
driving localised and inclusive procurement by ringfencing opportunities to support the small businesses
promoting partnerships with stakeholders including major suppliers, communities, government and development institutions.